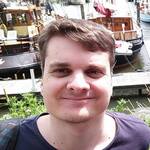 My name is Janis Pagel.
I am a computational linguist and currently PhD candidate at the Institute for Natural Language Processing, which is located at the University of Stuttgart, Germany.
Email
janis.pagel@ims.uni-stuttgart.de
PGP
My GnuPG/OpenPGP specifications:
| | |
| --- | --- |
| Key-ID | 1742C5D7 |
| Fingerprint | 2AF4 BFAC 3E33 CF1D C83C CE65 B44F 20A6 1742 C5D7 |
| Public key file | 1742C5D7_pub.asc |
External Sites
Blog post on DHdBlog / Travel stipend

A blog post written by me got published on the DHdBlog. The post describes my experiences at the DHd 2020 conference in Paderborn and was part of a travel stipend I received from the DHd society for travelling to this conference.

Talk at the 9th Hildesheim-Göttingen-Workshop on DH and CL

Benjamin Krautter and I are giving a talk at the 9th Hildesheim-Göttingen-Workshop on DH and CL on identifying character types, taking place in Göttingen, February 27, 2020 at 9:10 a.m.

Workshop at DHd 2020

On March 3, 2020 I will co-host a workshop with the title Vom Phänomen zur Analyse – ein CRETA-Workshop zur reflektierten Operationalisierung in den DH at DHd 2020 in Paderborn, together with Nora Ketschik, Benjamin Krautter, Sandra Murr and Nils Reiter.